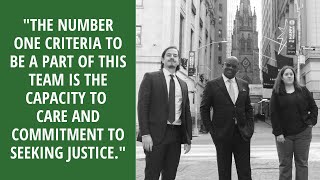 At Maduegbuna Cooper LLP, the number one criteria to be a member of this team is having the capacity to care, the ability to understand and empathize, and the commitment to seeking justice wherever it may be.
Civil rights work often involves working late, on weekends, and however long it takes to get results. It is important to build a culture where the team enjoys the work, collaborates well, and finds what they do rewarding.
The team at Maduegbuna Cooper LLP works closely together on every single case. Having team members from completely different backgrounds, it allows them to get various insights that contribute toward a successful approach in every case they take on. The firm takes on limited cases because they want to be direct, dedicated, and committed to fighting for every client that they work with. Founding partner Sam Maduegbuna attributes the key to their success their ability to focus completely on one case at a time.
Contact us call 212-232-0155 to schedule a consultation today.