About Sam
Partner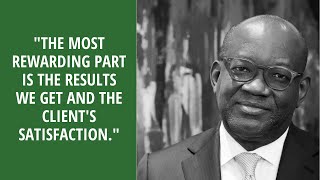 Samuel O. Maduegbuna, the founding partner of Maduegbuna Cooper LLP, is an experienced litigator and trial lawyer with a particular expertise in complex and challenging cases including employment discrimination, civil rights and commercial matters. He has successfully represented clients in high-stakes trials against municipalities, multinational corporations and financial institutions, and he obtained significant jury verdicts as well as negotiated multiple six- and seven-figure settlements on behalf of clients.
Sam's practice focuses on trial and appellate practice, arbitration and mediation, principally in the areas of labor and employment, personal injury, medical malpractice, civil rights and commercial matters. Sam has tried cases in federal and state courts and arbitrated these matters before a wide range of arbitral tribunals. He has argued critical motions and appeals, including conducting the oral argument before the United States Court of Appeals for the Second Circuit in a seminal decision on whether state common law torts arising from workplace drug testing are preempted by Federal Drug Testing Regulations applicable to workers in safety sensitive positions in the transportation industry. He has also argued and briefed appeals in the United States Courts of Appeals for the Eleventh and District of Columbia Circuits and the Appellate Divisions of the New York State Supreme Court.
Sam has extensive experience in corporate and commercial law particularly as it relates to banking and international commercial transactions. In that regard, he has represented a number of U.S.-based foreign banks in diverse aspects of their banking business by providing issue-specific legal support for various forms of credit facilities, such as term loans, letters of credit, syndicated loans, risk-participation and other asset-based and non-asset-based lending transactions. A substantial portion of Sam's practice is also devoted to commercial litigation arising out of interests in securities and banking-related litigation.
Sam is also a frequent public speaker and panelist at seminars and conferences in the areas of civil rights, international commercial arbitration and alternative dispute resolution.
Sam is actively involved in handling litigation matters on a pro bono basis. His efforts on one such matter led a U.S. District Judge to note that he "has gone above and beyond the obligations of his initial appointment on his client's behalf."
Academic Background
Master of laws (LL.M.), International Trade Law, 1992
University of Alberta, Edmonton, Canada
Bachelor of Laws (LL.B.), 1989
University of Nigeria, Enugu, Nigeria
Bar & Court Admissions
New York, 1993
U.S. District Courts, 1993
Southern District of New York
Eastern District of New York
Northern District of New York
U.S. Courts of Appeals, 1996
Nigeria (Solicitor & Advocate), 1990
Publications
"The Effects of Electronic Banking Techniques on Use of Paper-based Payment Mechanisms in International Trade" (1994) Journal of Business Law, (Sweet & Maxwell, England).
"The Collection of Bills in International Trade" (1993) Vol. 8:2 Banking and Finance Law Review, (Carswell, Toronto, Canada);
Professional/Community
Former Associate Director, New York State Trial Lawyers Association
Former Board Member, Nigerian Lawyers Association, New York, New York
Member, Pro Bono Panel, U.S. District Court, Eastern District of New York
Member, American Bar Association, Section on International Law and Practice and Litigation
Member, New York State Bar Association, Section on International Law and Commercial Litigation
Member, National Employment Lawyers Association, Oakland, Califorina
Founding Member, Nigerian Lawyers Association, New York, New York
Member, Chartered Institute of Arbitrators (UK), New York Branch
Top 100 Black Attorney, National Black Lawyers Association, 2015, 2016, 2017, 2018