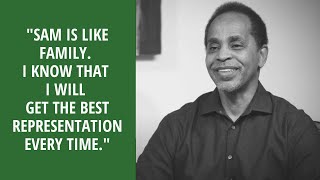 In 1994, Roger Smith was arrested with a group of people, at a block party for standing on the street. After being taken to the police station, he was held for days without seeing a judge or lawyer. Once he was finally brought in front of a judge and his case was dismissed, he was informed by an attorney that his rights had been validated and he should see a lawyer.
The idea of filing a lawsuit at the time was a huge concern for Roger because it wasn't something that was done in his community at the time. Once he began working with Sam, who assured him not to abandon the claim, he was given the courage to continue. When the case was settled, not only was it settled for a title of $200k, Roger received a personal handwritten apology from New York City.
For Roger, Sam is somebody he'd consider family and he knows he can count on him for the best representation. He feels fortunate to know Sam and always keeps his card on him because he knows, if something were to happen, Sam will always be there for him.
Contact us or call (212) 232-0155 to schedule a consultation today.