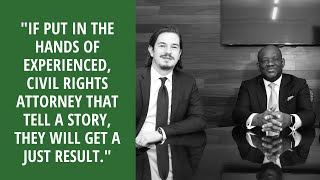 The team at Maduegbuna Cooper LLP discusses their client process. When a potential client first reaches out, they will first talk to a team member on the phone where they will complete an intake questionnaire. The team member will also ask them a lot of questions about their situation to fully understand their case. Since the firm is very selective about the cases they take, the case will not be accepted if it does not pass the vigorous examination.
If the case is taken, the client will come into the office, meet the team, and begin reviewing the intake questionnaire as well as any and all remaining details of their case. The team relies on the client to give them all of their details and documentation pertaining to their situation and wants them to be heavily involved throughout the process.
After looking at all of the facts and discovering the story, the complaint is built in the form of a compelling narrative that illustrates the client's circumstances, as well as a cast of characters that lists all of the involved individuals. At Maduegbuna Cooper LLP, cases are tried not on the claims of clients, but on the reasons for the actions taken by the employer. If put in the hands of experienced civil rights trial attorneys, like the team at Maduegbuna Cooper LLP, clients are guaranteed a just result.
Contact us or call (212) 232-0155 to schedule a consultation today.