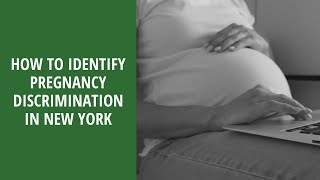 Partner Sam Maduegbuna explains how to identify pregnancy discrimination in New York. Pregnancy discrimination can usually be identified by the treatment of the individual before, during, and after their pregnancy. If somebody was highly successful at their job, but then comes back after maternity leave and finds they have been given far fewer tasks, it is likely they are being discriminated against.
Pregnancy discrimination laws in New York can also sometimes apply to the country-wide Americans with Disabilities Act. This means that these laws are not only city and state, but also aspects of federal law.
Contact us or call (212) 232-0155 to schedule a consultation today.